Unterpunkte
C. Miesen News
A new ambulance for SIS La Chaux de Fonds (CH)
A new ambulance with an integrated luggage body was delivered to la Chaux de Fonds in the canton of Neuchatel in western Switzerland last week. The
more information
New ambulance on MAN TGE for Macau
Just recently we handed over a very special project to the shipping company. We were favored to convert our first ambulance vehicle based on a MAN
more information
10 new emergency medical vehicles for the Syd-Denmark region
For our customer "Region Syd-Denmark" we were able to expand a total of 10 new emergency medical vehicles based on Mercedes-Benz GLE. Numerous equipme
more information
Ambulance Vehicles
back
Exterior and interior representation of a Mercedes Benz Sprinter:


Front view:

We developed the Mercedes Benz Sprinter as patient transport ambulance (PTA) in accordance with DIN EN 1789.

The modular C.MIESEN interior provides a wide range of possible ambulance conversions. We can flexibly adapt a conversion to your individual needs.

The following pictures represent one MB Sprinter conversion of many possibe variations.
Side and tail view:

The vehicle was painted in a red and yellow stripe design, as requested by the customer.

The windows of the patient's compartment have been darkened by a tinted foil, preventing a view inside.


Patient Compartment:


Sidewalls, wheel arches and ceiling of the patient's room consist of only three GRP form parts. Over the side domes these parts have been stuck together to one piece, what optimizes cleaning and disinfecting. The GRP-parts guarantee for highest hygiene claims. Curves diminish the injury danger for patient and attendant. Besides, GRP material - in contrast to the ABS plastic used in earlier times of ambulance manufacturing - appears non-yellowing, still after years. The high strength of GRP prevents a splintering of the panels if a crash occurs - an important safety aspect.

Patien

ts can

either

be placed

on

a stretcher or on a

chair. The loading is via a loading tray.

The

high roof

ensures

a pleasant

interior

headroom.

View from the side entrance:

The side panel with blue plexiglass windows offers stowage space for medical equipment.

A comfortable attendant seat accomodates a caregiver, who is secured by an automatic belt, arm rests and a padded headrest, which is mounted at the partition wall.
View of the partition wall:

Underneath the attendant seat there is a storage box for medical devices. A fire extinguisher was mounted on that box, making it available for immediate use. In the upper area of the partition wall a storage compartment takes place. A lid closes this stowage area.
Adresse
C. Miesen GmbH & Co. KG

Südstr. 119
D-53175 Bonn

Tel.: +49 228 54009 0
Fax: +49 228 54009 22
e-Mail: info@miesen.de


Dürnau Branch
Jurastraße 22
D-73105 Dürnau

Tel.: +49 7164 90319 10

NEW: Undertaker vehicles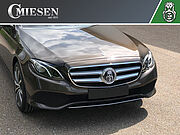 Latest releases of part of our portfolio are exclusive undertaker vehicles "made in Germany" based on extended Mercedes-Benz E-Class.