Unterpunkte
C. Miesen News
C.MIESEN receives major order from Iran for a conversion of 800 ambulance vehicles
Last year, our production went on high-speed as we received an order from the Ministry of Health and Medical Education ("MOHME") for a total of 800 al
more information
18 new ambulance vehicles for OMAN
At the end of last year, we delivered 18 ambulance vehicles based on the Mercedes-Benz Sprinter 324 box van, Wheelbase 3.665 mm, high roof, with two
more information
Brand new Ford Transit and Ford Transit Custom on stock
Currently we have numerous brand new Ford Transit and Ford Transit Custom on stock. These can be converted within short according to your requirements
more information
Other Special Vehicles
back
Exterior und interior view of a service car:

Front view of our service car:

Mercedes Benz Vito as workshop wagon.



Due to the modular design

of our cabinets

a large number

of

arrangements is

possible

.

Y

ou can customize the vehicle to

your

individual requirements.

The following pictures show one example of various conversions...
Rear view of the workshop wagon:



Let us, as your competent partner, manufacture your vehicle equipment. We

accompany you, even after purchasing.

Take advantage

of a supplier

,

a specialist,

a professional

...

Cabinet at the lefthand sidewall:



Your new vehicle

, fully

equipped

with

quality machines

, tools

or consumables

according to your

needs,

if you request.

View of the righthand sidewall
Adresse
C. Miesen GmbH & Co. KG

Südstr. 119
D-53175 Bonn

Tel.: +49 228 54009 0
Fax: +49 228 54009 22
e-Mail: info@miesen.de
ON SALE:
Miesen Ambulance on Ford Transit Custom Trend 330L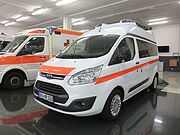 Miesen Ambulance on Ford Transit Custom Trend 330L, wheelbase 3.300 mm, acc. DIN EN 1789 >>> DEMO-VEHICLE <<< Color: Frost-White Miesen Com.-No: 50150/ 15 Mileage: approx. 2.700 km Please see pictures for details. Further details are available with our Sales Team!
read more