C. Miesen News
Happy Christmas and a happy new year !!!
Dear Ladies and Gentlemen! A year with many challenges is coming to an end. Reason enough to wish you and your families a Merry Christmas and a
more information
C.MIESEN receives major order from Iran for a conversion of 800 ambulance vehicles
Last year, our production went on high-speed as we received an order from the Ministry of Health and Medical Education ("MOHME") for a total of 800 al
more information
18 new ambulance vehicles for OMAN
At the end of last year, we delivered 18 ambulance vehicles based on the Mercedes-Benz Sprinter 324 box van, Wheelbase 3.665 mm, high roof, with two
more information
Privacy Policy

You will find our privacy policy here shortly.
Adresse
C. Miesen GmbH & Co. KG

Südstr. 119
D-53175 Bonn

Tel.: +49 228 54009 0
Fax: +49 228 54009 22
e-Mail: info@miesen.de
ON SALE:
Miesen Ambulance on Ford Transit Custom Trend 330L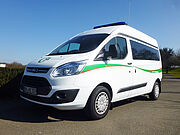 Miesen Ambulance on Ford Transit Custom Trend 330L, wheelbase 3.300 mm, acc. DIN EN 1789 >>> DEMO-VEHICLE <<< Color: Frost-White Miesen Com.-No: 50132/ 14 Mileage: approx. 5.500 km Please see pictures for details. Further details are available with our Sales Team!
read more