Unterpunkte
C. Miesen News
Happy Christmas and a happy new year !!!
Dear Ladies and Gentlemen! A year with many challenges is coming to an end. Reason enough to wish you and your families a Merry Christmas and a
more information
C.MIESEN receives major order from Iran for a conversion of 800 ambulance vehicles
Last year, our production went on high-speed as we received an order from the Ministry of Health and Medical Education ("MOHME") for a total of 800 al
more information
18 new ambulance vehicles for OMAN
At the end of last year, we delivered 18 ambulance vehicles based on the Mercedes-Benz Sprinter 324 box van, Wheelbase 3.665 mm, high roof, with two
more information
Sales

Are you searching for special solution according to your requirement but you couldn't find a suitable product on our website? Do you require further assistance in regards to special conversions? For all issues in regards to our products portfolio our qualified and dedicated Sales-Team will efficiently take up your concern.
No matter whether your issue is to find the best possible ambulances, rescue vehicles, fast responders, vehicles for people with special needs or other specially converted vehicles:
In our Sales-Team you will always find the right contact person to assist you to find the best possible solution to your requirements.
Please chose below for the desired area contact:
Adresse
C. Miesen GmbH & Co. KG

Südstr. 119
D-53175 Bonn

Tel.: +49 228 54009 0
Fax: +49 228 54009 22
e-Mail: info@miesen.de
ON SALE:
Miesen Ambulance on Ford Transit Custom Trend 330L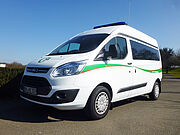 Miesen Ambulance on Ford Transit Custom Trend 330L, wheelbase 3.300 mm, acc. DIN EN 1789 >>> DEMO-VEHICLE <<< Color: Frost-White Miesen Com.-No: 50132/ 14 Mileage: approx. 5.500 km Please see pictures for details. Further details are available with our Sales Team!
read more