Unterpunkte
C. Miesen News
Happy Christmas and a happy new year !!!
Dear Ladies and Gentlemen! A year with many challenges is coming to an end. Reason enough to wish you and your families a Merry Christmas and a
more information
C.MIESEN receives major order from Iran for a conversion of 800 ambulance vehicles
Last year, our production went on high-speed as we received an order from the Ministry of Health and Medical Education ("MOHME") for a total of 800 al
more information
18 new ambulance vehicles for OMAN
At the end of last year, we delivered 18 ambulance vehicles based on the Mercedes-Benz Sprinter 324 box van, Wheelbase 3.665 mm, high roof, with two
more information
Today
MANUFACTURING
Production with MIESEN runs at full speed. In our manufacturing plant in the industrial area of the community of Bonn - Bad Godesberg demanded and innovative ambulance and emergency vehicles are produced. In all production stages our trained personnel secures that quality, achievement and service are correct at any time.

read more

COMPLIANCE
C.Miesen GmbH & Co. KG has chosen a corporate culture based on the business ethics and compliance with all applicable domestic and foreign laws. A responsible and legally correct behavior of each individual is the premise for the good reputation of our traditional company, as well as the success of MIESEN.

The main concern is to ensure that all employees act with integrity and ethically and laws that apply to our company, to be strictly observed. For the practical implementation of this commitment, C.Miesen GmbH & Co. KG has developed a compliance manual as a behavior code (Code of Conduct).

In our Code of Conduct we have the principles and values summarized, with which compliance is expected from both the management and all employees in terms of good administrative behavior.


Download Code of Conduct (GERMAN)

Adresse
C. Miesen GmbH & Co. KG

Südstr. 119
D-53175 Bonn

Tel.: +49 228 54009 0
Fax: +49 228 54009 22
e-Mail: info@miesen.de
ON SALE:
Miesen Ambulance on Ford Transit Custom Trend 330L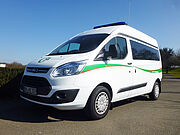 Miesen Ambulance on Ford Transit Custom Trend 330L, wheelbase 3.300 mm, acc. DIN EN 1789 >>> DEMO-VEHICLE <<< Color: Frost-White Miesen Com.-No: 50132/ 14 Mileage: approx. 5.500 km Please see pictures for details. Further details are available with our Sales Team!
read more