Unterpunkte
C. Miesen News
The RETTmobil is the European Leading Exhibition for Rescue and Mobility held in Fulda. From 15th to 17th May 2019 we will be presenting our products
more information
C.MIESEN receives major order from Iran for a conversion of 800 ambulance vehicles
Last year, our production went on high-speed as we received an order from the Ministry of Health and Medical Education ("MOHME") for a total of 800 al
more information
18 new ambulance vehicles for OMAN
At the end of last year, we delivered 18 ambulance vehicles based on the Mercedes-Benz Sprinter 324 box van, Wheelbase 3.665 mm, high roof, with two
more information
Crash Test
back
SUCCESSFULL CRASHTEST ACCORDING TO DIN EN 1789
Typ A1 / A2 / B / C

MERCEDES BENZ SPRINTER PANEL VAN



As a leading manufacturer of ambulances, it is a primary goal for C.MIESEN to develop standardized and reliable vehicles for our demanding customers. The sustainable safety of our products is our priority.

Therefore, a Mercedes Benz Sprinter panel van was examined by the independent French testing laboratory UTAC in accordance with the strict safety standard DIN EN 1789.
For this purpose, the bodyshell of the vehicle was tested in a series of dynamic crash tests. All standard weights and corresponding equipment packages were stowed in the vehicle realistically. Then the vehicle was accelerated and then decelerated abruptly so that a gravitational acceleration of 10G impinged on the vehicle.


The results speak for themselves:

After completion of all crash-test experiments it has been confirmed by the French testing institute UTAC that our conversions based on the Mercedes Benz Sprinter panel van meet and exceed the latest conditions of standard DIN EN 1789:2010 Type A1, A2, B and C entirety.

Please find the test certificate here: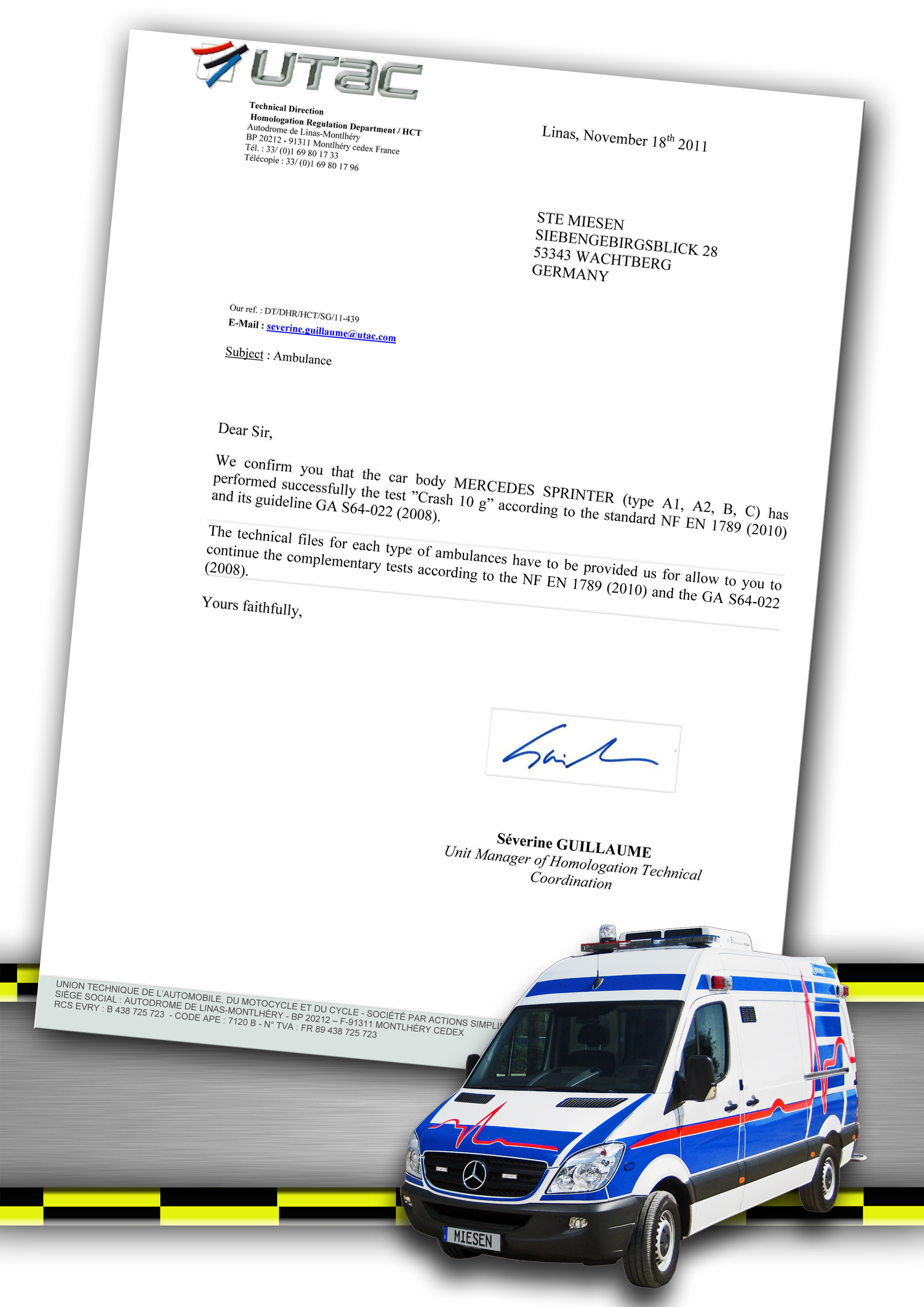 But no crashtest is more convincing than reality:

Below we present some pictures of a Mercedes Benz Sprinter, which was involved in an accident and turned over.

Convince

yourself of

the

stability of our conversion!

Despite the

rollover

the

entire interior

of the

patient's

compartment, especially the furniture and stretcher fixation, remained firmly at their dedicated position!
Adresse
C. Miesen GmbH & Co. KG

Südstr. 119
D-53175 Bonn

Tel.: +49 228 54009 0
Fax: +49 228 54009 22
e-Mail: info@miesen.de
ON SALE:
Miesen Ambulance on Ford Transit Custom Trend 330L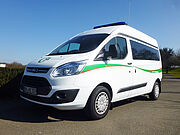 Miesen Ambulance on Ford Transit Custom Trend 330L, wheelbase 3.300 mm, acc. DIN EN 1789 >>> DEMO-VEHICLE <<< Color: Frost-White Miesen Com.-No: 50132/ 14 Mileage: approx. 5.500 km Please see pictures for details. Further details are available with our Sales Team!
read more