Unterpunkte
C. Miesen News
Happy Christmas and a happy new year !!!
Dear Ladies and Gentlemen! A year with many challenges is coming to an end. Reason enough to wish you and your families a Merry Christmas and a
more information
C.MIESEN receives major order from Iran for a conversion of 800 ambulance vehicles
Last year, our production went on high-speed as we received an order from the Ministry of Health and Medical Education ("MOHME") for a total of 800 al
more information
18 new ambulance vehicles for OMAN
At the end of last year, we delivered 18 ambulance vehicles based on the Mercedes-Benz Sprinter 324 box van, Wheelbase 3.665 mm, high roof, with two
more information
Loading Systems
Ramps
Our aluminum ramps make a fast and easy loading and unloading of carrying chairs and wheelchairs possible in your vehicles. Thus the loading and unloading carrying chairs can be realized by only one person contrary to the conventional load trays.
read more

MIESEN except tray
Our particularly developed CMIESEN excerpt tray on basis of a heavy load excerpt serves for loading and unloading of a carrying chair through the opening of the side sliding door and stands out by an easy usage.

read more

Carbon excerpt tray
A further innovation of CMIESEN is our newly developed load tray in lightweight construction.
read more

Nirosta - loading tray
Our CMIESEN loading tray was developed particularly for the employment in patient carriages and is suitable outstanding for the comfortable loading and unloading of a carrying chair.
read more

Elevators
No matter whether you reqiure turnable lifts, linear lifts, cassette type lifts: We can supply you with the neccessary loading sytems to meet your individual purposes.
read more

Adresse
C. Miesen GmbH & Co. KG

Südstr. 119
D-53175 Bonn

Tel.: +49 228 54009 0
Fax: +49 228 54009 22
e-Mail: info@miesen.de
ON SALE:
Miesen Ambulance on Ford Transit Custom Trend 330L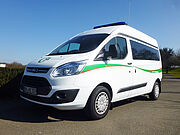 Miesen Ambulance on Ford Transit Custom Trend 330L, wheelbase 3.300 mm, acc. DIN EN 1789 >>> DEMO-VEHICLE <<< Color: Frost-White Miesen Com.-No: 50132/ 14 Mileage: approx. 5.500 km Please see pictures for details. Further details are available with our Sales Team!
read more